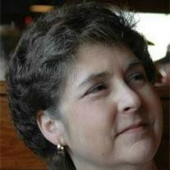 Catherine Farr
June 17, 1945
-
September 7, 2012
Salina, Ks

Catherine Farr, 67, Salina, died Friday, September 7, 2012.

She was born, Catherine Jane Bell on June 17, 1945 in Salina to
Ralph C. and Mary W. Bell. Cathy was a graduateof Salina High
School and Marymount College. She was registered nurse at Asbury
Hospital and a lifelongmember of First United Methodist Church.

Survivors include her sister, Judith (Foster) Paulette of Kansas
City, MO; three daughters; Alisa (Marshall)
Greene of Abilene, Liana (Nathan) Dickey of Topeka, Kerry (Douglas)
Bond of Yukon, OK; son, Kyle
(Kori) Farr of Manhattan, KS; and eight grandchildren, Ethan,
Olivia, Emmett and Annalee Greene;
Meredith and Makenzie Brockelman ; Alexander Farr; Elizabeth
Bond.

Funeral services will be at 10am, Saturday September 15, 2012 at
Peace Lutheran Church, New Cambria.
Inurnment will follow at Highland Cemetery, New Cambria.
T.
https://www.carlsonfh.net/obituaries/Catherine-Farr?obId=2956269#/obituaryInfo