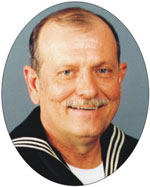 Richard H. "Rich" Fosbinder
September 16, 1945 - December 8, 2007

Richard H. "Rich" Fosbinder, 62, Salina, died Saturday, Dec. 8, 2007.

Mr. Fosbinder was born Sept. 16, 1945, in Minneapolis. He was a petty officer first class in the U.S. Navy, retiring in 1993, and was a truck driver for Morrison Pork.

He was preceded in death by his parents, Leycester "Frosty" and Fairy Anna Fosbinder; and a sister, Barbara Faupel, in 1986.

Survivors include his wife, Luetta Fosbinder, of Salina; two stepsons, John Fritz and wife Cindy of Gypsum and Jeff Fritz and wife Cindy of Lindsborg; a daughter, Allison of Ellsworth; two stepdaughters, Dayna Spies and husband Duane of Salina and Diana Sutton and husband Kent of Peru, Neb.; three brothers, David Fosbinder and wife Sharan of Orlando, Fla., Roger Fosbinder and wife Jan of San Diego and Scott Fosbinder and wife Elizabeth of Florida; a sister, Linda Johnson and husband Ray of Chicago; 23 grandchildren; and five great-grandchildren.

The funeral will be at 10:30 a.m. Saturday at Ryan Mortuary, 137 N. Eighth, Salina 67401. Burial will be in Roselawn Cemetery, Salina.

Memorials may be made to Falun Lutheran Church.

Friends may call from 4 to 8 p.m. Friday at the mortuary.