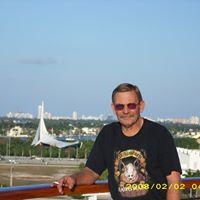 Michiel (Mike) T. Prochaska
September 7, 1944 - November 21, 2010
Michiel T. Prochaska, 66, of Salina, passed away Sunday, Nov. 21, 2010. He was born Sept. 7, 1944, in Hollis, N.Y., the son of Albert and Beverly (Brandt) Prochaska. He was a salesman for Cash-Wa Distribution in Kearney, Neb.
Mike served in the United States Marine Corps as a sergeant in Vietnam, where he was combat wounded. He was a life member and 10-year commander of the Military Order of the Purple Heart Chapter 688, life member and past commander of VFW Post 1432 and member and past commander of American Legion Post 62. He was also a member of various service organizations.
He was preceded in death by his father, Albert. Survivors include his special friend, Marcia Greene, of Salina; daughter, Melinda Brull and husband Keith and their daughter, Alexa, all of Catherine; mother, Beverly, of Salina; two brothers, David Prochaska and special friend Teresa Bennett, of Antonino, Kan., and Roger Prochaska, of Salina; two sisters, Nancy Montalvo and husband Danny, of North Richland Hills, Texas, and Jennifer Prochaska, of Kansas City, Mo.; seven nieces and nephews; seven great-nieces and nephews; and numerous friends.
The memorial service will be at 11 a.m. Wednesday, Nov. 24, at Ryan Mortuary, 137 N. Eighth, Salina 67401, with the Rev. Brenda Stalbaum Martin officiating. Private family inurnment will be at a later date in Devore Cemetery, Caldwell.
In lieu of flowers, memorials may be made to the Military Order of the Purple Heart.